We wish it existed when we first started.
I'm Simone, interior designer and creator of SOUL of Gerringong and SOUL Home.
I love creating beautiful spaces for people to escape to, but most of all, I love sharing my knowledge and experience with passionate and like-minded people, like you!
We're in the business of creating unforgettable memories. By paying attention to the details and creating chilled-out vibes, we give our guests something truly special – a holiday feeling that sustains them long after the demands of day-to-day life kick in again.
So, I'm on a mission. To create a place for HPO's to come to learn, connect and be inspired. I want to share everything that I've learned, so that you, too, can create that holiday feeling, and have great success while you're at it.
It's been a big journey to get to where I am.
My (very handy hubby) Ben and I have been through the hard yards, of learning how to set up a holiday property from the ground up to being booked out 12-months in advance after four weeks of opening. And all while raising four boys.
BUT LET'S BACKTRACK A LITTLE
Ben and I have developed and sold many properties over the years. And while we were in the middle of a development in our home town of Cronulla, we went on a weekend away to Gerringong for a friend's 40th, which changed everything for us.
As soon as I saw the farmhouse in Gerringong, I felt like I breathed out for the first time in years. I knew we had to create a property that we could share with everyone.
We packed up our life in Cronulla and relocated with our four boys to Gerringong, to what was supposed to be a nine-month working holiday – building and getting to know the local community and area. Sounds simple right?
We closed down our building team in the Shire, sold our house and enrolled our boys into the local school – who (thankfully) took it all in their stride. In the beginning, we were living the South Coast lifestyle. Ben surfed every morning, and I met new friends for coffee. And every afternoon after school we were down at Gerroa Beach. It felt like one long holiday!
BUT THEN REALITY KICKED IN
The opening date was fast approaching, and we were behind schedule. We were hosting a Melbourne Cup Ladies Lunch for 150 guests, and the boys and trades were working around the clock to get everything done on time. It was a race to finish, but we got there. And we tracked it all on social media.
Mentally, emotionally and physically exhausted, but at the same time, excited with how our vision had come to life. And then came the bookings. In a matter of weeks, we were booked out 12 months in advance. All our hard work and lessons learnt had been worth it!
The plan was to move back to Cronulla when the build was finished. Three years later we're still living in Gerringong and SOUL has grown to become more than a holiday property, it's become a platform for Ben and me to share everything you need to know to create that holiday feeling for your guests.
I love upskilling HPO's in everything they need to know to start and run a holiday property business. It helps them and the industry.
I'm a people person, so building a network of like-minded soul mates who lift each other up and celebrate one another's successes, is simply good for the soul.
It's so rewarding to see others create beautiful stays in stunning destinations, and ultimately a lifestyle they've always dreamed of.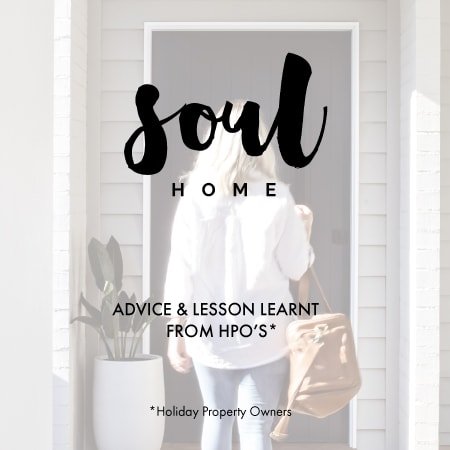 ADVICE & LESSONS
LEARNT FROM HPO'S
ARTWORK DOWNLOADS FOR YOUR HOLIDAY PROPERTY
HOW TO CREATE A
CUSHION COMBINATION