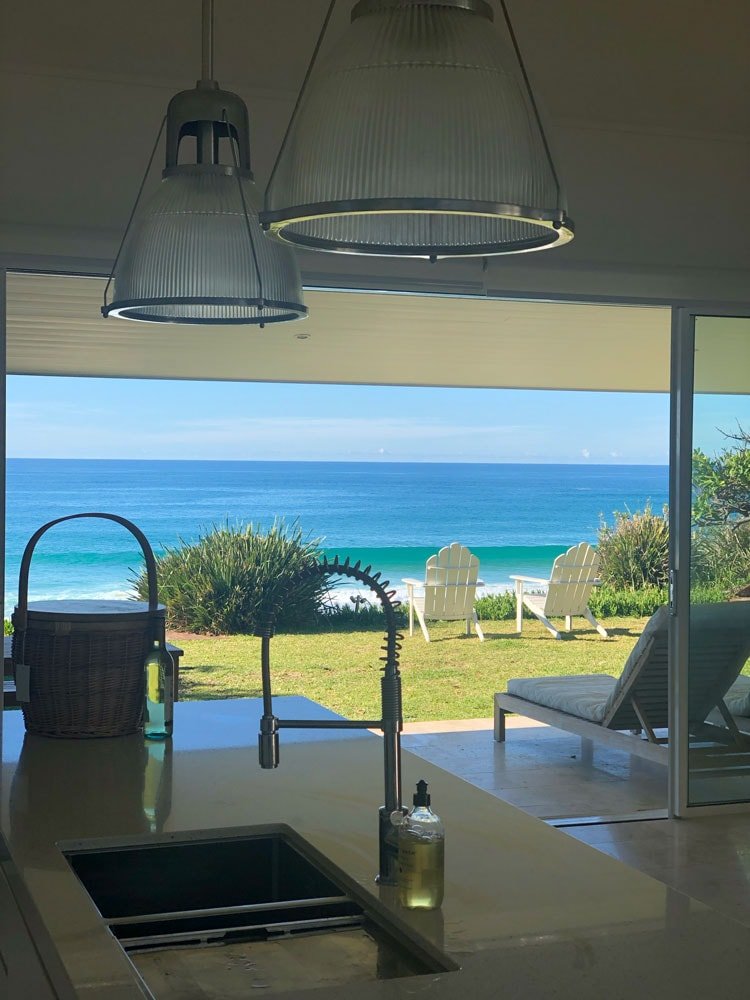 JUNE 2019 

| 4 ADULTS + 6 KIDS  |  3 NIGHTS
First Impressions
From the front, it was a nice modern house with no hints to what lay beyond. But, as we walked up the stairs, we saw the ocean and discovered we were literally staying in a beachfront property … we were all blown away.
The House
For two families, the layout of the house was perfect. It was my husband Ben's birthday, so we took the main bedroom that overlooks the ocean. There were another two bedrooms in the middle of the house, one with two bunk beds (perfect for my four boys), and another with a queen bed. At the front of the house was another bedroom next to the main bathroom, so it was like the two families had opposite ends of the house.
The heart of the home was the open plan kitchen/living/dining. It opened out onto a rear deck that led straight down to the beach with your own private path. With six kids, the second lounge room was ideal. When the kids wore themselves out at the beach, they would retreat back there.
The Styling
The property is contemporary Australian with a touch of coastal and classic thrown in. Everything was very understated, allowing the ocean to be the hero, which is just how it should be. 
The fourposter bed in the master not only looked great but was such a comfortable sleep, and the ensuite felt like walking into a day spa. For my boys, the built-in bunk beds were a big hit, and they looked so good.  
The fireplace in the sitting area was great and well used as we were there in winter, and the kitchen was simple, which allowed the feature splashback tiles to be the standout. I loved that open shelving was used, this is my recommendation for all holiday properties.
We loved
The beachfront location. I felt like I was in the movie, Beaches. The kids never complained about being bored once. They spent the days surfing, playing football on the beach, and collecting shells.  The dads went for several surfs each day, and for us mums is was just so relaxing, we literally didn't want to leave.
The layout of the house was great for two families. Be warned, you will need to fight for the master with that view!
The Neighbourhood
It was hard to leave the house, so we didn't venture out too much. But when we did, the coffee at Moby's Beachside Retreat is literally a two-minute walk along the beach. The local shops were about a 10-minute stroll away, and they had the essentials – two coffee shops, a grocery store, fish & chips, a surf shop and a clothing store. We had dinner one night at Kembali, which was great.  
I knew ahead that the grocery store did not have much variety, so I ordered Woolworths online, which was delivered within 10 minutes of us arriving, it was the best!