Nat, Creative Director of The Palm Co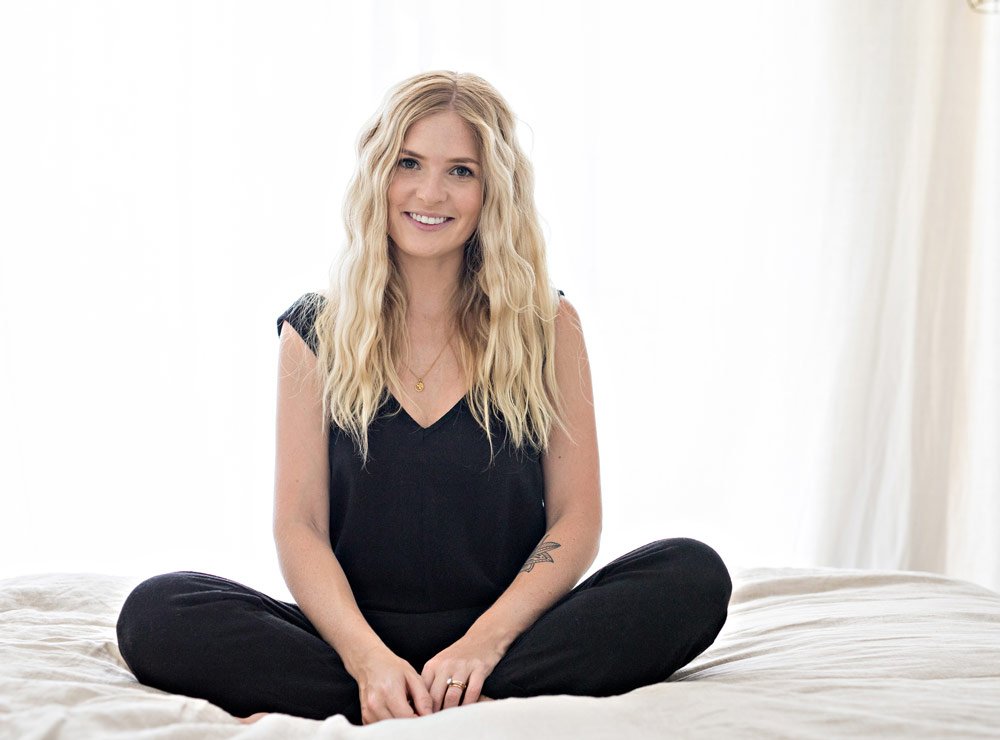 To sell the property 'people connect with people' so showing friends, families, couples having a great time in your property will help to sell it to your audience.
What makes a property easy to shoot?
Natural lighting and clean tidy space! I love shooting at well thought out properties that know the importance of the extra details, from coffee capsules, bathroom amenities through to the layers of the bedding.
How do you capture the feeling of a holiday in a photograph?
Fun, relaxing, escape, cosy, chill, tropical – these are all words I associate with holidays.
Firstly, I look at the location of the property and what critical aspects of a holiday that the client wants to sell. Discussing the brief with the client comes next, it's vital for me to understand what feeling they want their guests to experience before I capture the images.
For example, for a shoot in Jindabyne, the aim was to capture a relaxed, cosy, lifestyle. Where the days are spent on the slopes and nights by the warm fireplace. To capture the feeling, I added more blankets in the shots and had the fireplace is on. The fire needed to be cranking when I took the shot. . . an empty fireplace won't do the photograph any justice.
When it comes to capturing accommodation in coastal destinations, I use books, magazines, cold drinks, beach towels etc. To capture the feeling of complete relaxation which comes from lazy mornings, breakfast in bed and reading books by the pool.
To capture the whole vibe also need to include location shots showing possibly the attractions, the local cafes etc. Anything that will help essentially sell your location and your accommodation to any potential guest, so they choose your property over another. I make sure my images are all light, bright and inviting.
What is the most challenging obstacle you face when photographing holiday properties?
Capturing the relaxing holiday vibe without having people in the images!
You can definitely get beautiful photos of the accommodation on its own, and that is great start to get you up and running, but as you progress it's a great idea to plan to get images of people enjoying the spaces. To sell the property 'people connect with people' so showing friends, families, couples having a great time in your property will help to sell it to your audience. Influencers can be an excellent option for gaining more exposure to your accommodation to a wide audience. What is your top tip/s for holiday homeowners when engaging a photographer? You will get the most out of a shoot if you chat to them about your brief and make sure you are both on the same page about what you want them to capture and where your images are going to be used. At the end of the day, you are selling the property and the location so its always a good idea if your photographer specialises in interior and lifestyle photography.
If holiday homeowners what to take photographs for social media, what advice can you give them?
Bad photos of a property can give a terrible first impression. So, if you can take photos on a camera, I would highly recommend it! There are lots of companies that you can hire cameras from for the day. Alternatively, make sure you have a phone with a good quality camera, after all, your photos will make your potential guests want to stay.
Capture what sets you apart, what's going to make people want to come to your property -whether it's the view, the interiors, the location, make sure you can see those features clearly in your social feed.

Turn off the lights to avoid throwing a yellow tinge through your images. Open blinds, let in as much natural light as possible -sunny and bright photos are warm and inviting when scrolling through socials.

Before you start shooting go through space and style it up a little bit -remove any unnecessary clutter, hide remotes, cords, bins, toilet brushes (anything that isn't necessarily appealing). You want the space to feel inviting.

Use good bedding!! Cheaper bedding will show in photos -the inserts are usually very flat and fall short of creating that extremely comfortable bed that you want to be promising.

Get a good variety of close-ups and full room shots. Full room shots will show off the space, but details are great for engaging your audience on particular aspects of the property.

Make the bathroom look like it's never been used before! Adding greenery and fresh towels to make the space look more inviting.

Use apps such as Snapseed and VSCO Cam for editing your images adding in any clarity or additional exposure you may need, keep your editing consistent across your images, so there is a nice flow on your social accounts.

Be your own guest! Take photos of the local cafes, wineries, restaurants, parks and anything that makes the area appealing to you. Make sure you capture all the details that make your holiday property stand out, so all the little extra bits, the tea and coffee, plants, towels, decor, everything that makes the property what it is.